Couch Scotchgard Protection: Save Your Couch From Deep Stain
For the preservation of couch fabric, we provide couch Scotchgard service. Because using Scotchgard protection services makes cleaning easy. CBD Couch Cleaning Brisbane provides the best Scotchguard protection service. You can see the best outcomes of couch protection with us. The furniture's fabric is protected by our fabric protection process. This treatment will also help to prevent upholstery stains since it prevents the fabric from holding onto the stain.
For leather couches, our Brisbane couch cleaners also apply Scotchgard protection. Our Couch Scotchgard Service Brisbane professionals excel at carrying out these duties. We have a very easy process for booking. You only need to ring us at 07 3184 4760 for reservations. Our experts strive to reach you within an hour of your booking.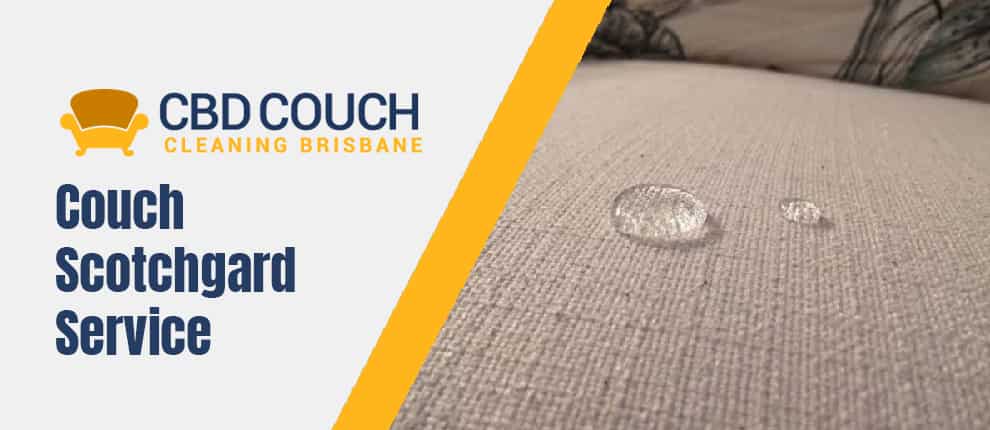 The Method We Use For Brisbane Couch Cleaning
Pre-Inspection: To create our cleaning solution for your couch, we first assess the state of the couch. We will treat the couch precisely thanks to our pre-inspection procedure.
Vacuuming: We thoroughly vacuum the couch as well to get rid of all the dust, filth, grime, and other impurities. For this phase, a high-quality, modern vacuum cleaner is used.
Deep cleaning: Afterwards our experts use modern steam cleaners to clean your couch deeply. Steam helps in the removal of dust from the deepest layer of your couch.
Drying: Drying is a very important step after the proper cleaning of a couch. Drying prevents the growth of mould and also makes the couch ready to use.
Scotchguard protection: Lastly we go for our main Scotchguard protection service. A layer of Scotchguard protection spray is sprinkled over the couch. This makes a protection layer to resist future stains.
When To Ring Our Professionals For Couch Scotchgard Protection Services In Brisbane
Who does not like a spotless couch? Everyone wants their couch to be dust-free and smell-free. So reach us when you want to transform your dirty couch into brand new. We at CBD Couch Cleaning Brisbane will make your couch sparkling new. Our services include providing Scotchgard Coating and Cleaning. According to our professionals, Scotchgard is an effective way to cap off an excellent cleaning. Scotchgard is in fact intended to keep your environment fresher for longer. We can use a deep protector to assist your couch, furniture, and walls in resisting stains and everyday wear and tear after we have finished the service.
Our protection forms a barrier around the fibres, making it impossible for dirt to penetrate while being safe for humans, pets, and the environment. The protector makes your couch last longer, keeps it fresher for a longer period of time, and eliminates undesirable odours. The best part is that the additional protection gives you more time to mop up any unforeseen spills. It also gets rid of annoying static buildup. So ring us as soon as you think about couch cleaning and Scotchgard protection.
Why Should You Choose Our Expert For Couch Scotchgard Service
For top-notch services, give us a call and ask for our staff. These are the major factors that make our team the finest option.
Outstanding results – We have a huge history of offering the best couch Scotchgard protection services. As a result, we strive to deliver top-notch service.
Convenient: Since our professionals are available 365 days a year. Therefore, you may schedule an appointment during the time that works best for you. Therefore, anyone can use our service.
Same-day service: Additionally, you may benefit from our same-day Scotchguard protection service. The only thing left to do is make an appointment. We will be there as quickly as we can.
Staff with experience: From a safety perspective, a dirty couch demands staff with expertise. As a result, our knowledgeable specialists take every work seriously and do their work using all safety precautions. Our staff have Certificate III in Cleaning Operations.
FAQs
Are the cleaning products you use safe for pets?
All of the cleaning products and solutions we offer are completely safe for your family's pets and children. Because we only use non-toxic and safe solutions.
Can you remove the couch's tenacious coffee and tea stains?
We can, yes! Several very difficult stains are removable. Because the cleaning agents we employ are quite successful in removing stains. Moreover, our Scotchguard protection services prevent stains from appearing.
Can you offer an emergency couch Scotchgard protection service in west Brisbane?
Yes, our team of experts are available to serve you anytime and anywhere. So, simply ring us for the best and most prompt couch Scotchgard protection service.
Stain Removal in Brisbane and Nearby Regions