Say Goodbye to Mold: Expert Couch Mould Cleaning Services in Brisbane
Moulds are not good for any fabric and the same is true for your couch. Various reasons can cause mould on your couch. If you require an expert moulded couch cleaning service, you can call our moulded couch cleaning Brisbane staff. We can do thorough odour and mould removal services. Since we have all the necessary cleaning supplies, tools, and couch cleaners. CBD Couch Cleaning works for solving all kinds of couch cleaning issues.
We provide moulded couch cleaning services because we believe that every resident of Brisbane has the right to good health and wants what is best for their loved ones. We provide economical moulded couch cleaning services in Brisbane in order to prioritise our consumers. As a result, your couch will soon be a comfortable place for you to sleep and for your children to play.
Moreover, we only utilise tried-and-true methods. Thus we always provide the best results. You may ring us at (07) 3184 4760 to book our services. You can be sure that your moulded couch will be revived when you engage professionals from our company.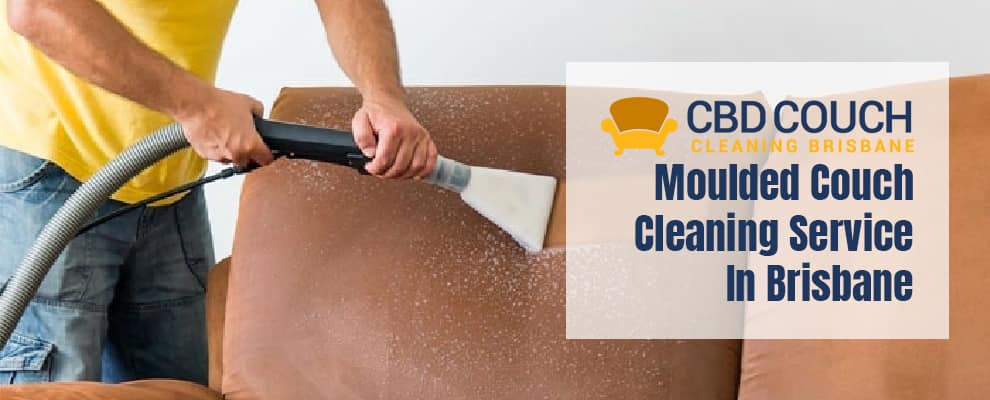 Here Is Our Step-Wise Moulded Couch Cleaning Process
When it comes to couch cleaning, no professional couch cleaning Brisbane method is as good as ours. Here is our long-lasting moulded couch cleaning method.
Inspection- As couches vary in size and shape, we first perform a thorough inspection before anything. We carefully examine all the corners of the couch. Also, our experts look for the spots and stains to be paid more attention to.
Vacuum- Vacuuming is performed so as to quickly get rid of visible dust, debris and dirt from the couch. This makes the cleaning easier.
Steam couch cleaning- Deep clean the couch with the steam cleaning method if your couch is compatible with it. The hot steam helps to get rid of the majority of dust and germs.
Mould treatment- Afterwards, with the help of safe couch cleaning solutions we treat mould growth. Our experts work forth to remove mould stains and bad odour from the couch. Use gentle scrubbing techniques to work out remaining stains and dirt. After this, you find your couch clean and bright.
Sanitisation and deodorisation- Lastly we perform sanitisation and deodorization to make the couch germ free and to make the couch smell fresh.
When Is the Right Time To Ring A Professional For Moulded Couch Cleaning
Is the mould on the couch something you cannot get rid of? Your concern was heard. Take advantage of our mould removal service and stop wasting time trying to remove mould from the couch. Your couch is completely free of dangers like discolouration and fringes thanks to our mould removal process. One should call a professional as soon as they see mould growing on their couch.
An expert works with diligence to make your couch free from mould. Our special couch cleaning solution breaks down oil and produces the greatest results for filth, mould and stain removal. Our cleaning procedure is safer and more efficient than that of other couch cleaning companies. So you may get in touch with us whenever you wish to make your moulded couch look absolutely new and safe. We provide amazing outcomes at very affordable rates.
Perks Of Choosing Us For Moulded Couch Cleaning Service
One of the things that made us well-known in Brisbane was our delicate and thorough couch cleaning. Several more factors are considered for hiring our team:
Professionals: We are renowned as the top local moulded couch cleaners for being on time and offering the best and most efficient services.
Modernisation: The instruments we use to clean your moulded couch are all the latest. Hence the results are always great and on time.
Safe service: Our services are safer for both children and dogs. Since we only use non-toxic, chemical-free materials. In fact, we do not use any more abrasive soaps or detergents with these substances on our side. Our staff have Certificate III in Cleaning Operations.
Emergency Service: We deliver immediate assistance in addition to our regular moulded couch cleaning deals. There are no additional fees and this service is accessible across Brisbane.
Economical Cleaning: The moulded couch cleaning fees we charge our Brisbane customers are reasonable and simple for each client to pay. If you do not have cash, you can still pay our reasonable couch cleaning prices with a credit card.