Exclusive Couch Sanitisation Service In Brisbane
Is the couch irritable for you? If yes it is time to call a professional for proper couch cleaning and sanitation service. Many dust mites, bacteria, and germs cause many skin issues and allergic problems. It is important to go for a couch sanitisation service. CBD Couch Cleaning is here to offer you the best couch sanitisation service. Therefore never be late to reach us if you want a brilliant result. Our couch sanitisation team is well-educated and experienced in providing service for all types of couch fabric. We use safe and non-toxic sanitising solutions that will not leave their mark on the couch.
You can call us anytime since we are available 24 by 7 for the service. Also, we reach all the places in and near Brisbane. So never hesitate to ring us. Call us at (07) 3184 4760 to book a reservation for the best couch sanitisation service.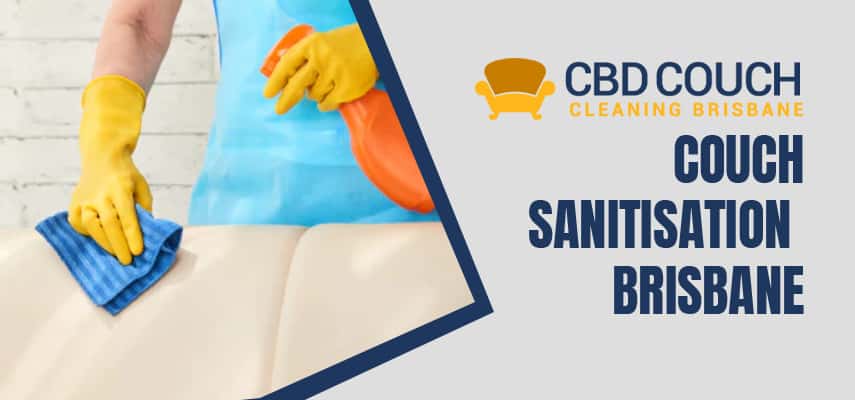 Process Of Our Couch Sanitisation Service
At CBD Couch Cleaning Brisbane, we make sure to only employ the most modern Brisbane technologies and procedures. Our team employs cutting-edge equipment to completely clean and sanitise your items and restore their brand-new beauty. The primary procedures and methods we employ are as follows:
We first inspect the entire couch before moving the couch cleaning and sanitisation. According to the condition of the couch, we make a plan to clean your couch.
Following the inspection, we clean your couch properly because it is important to deeply clean the couch before sanitising it.
Furthermore, we use safe couch stain removal solutions to remove stubborn stains from the couch. We make sure to make your couch look spotless. Thus we scrub the couch for proper results.
We then set the couch to dry or else we even use dryers to dry your couch quickly.
After drying we finally sanitise your couch. We use premium couch sanitisation solutions for sanitising your couch and eliminating germs and bacteria.
Lastly, we deodorise your couch and make it ready to use.
Our Other Related Services
When To Call A Professional For Couch Sanitisation Service In Brisbane
One of the most significant factors contributing to allergies in today's world is a filthy couch. Moulds and fungus grow on the couch, absorbing moisture and causing it to rot from the inside out. The filthy couch has a buildup of bed bugs, dust mites, and pathogens. In such conditions, it is crucial to have the couch cleaned and sanitised by contacting professionals. You must engage the finest professional cleaning services to clean your couches routinely.
Perks Of Choosing Our Team For Couch Sanitisation
Call on us for any professional couch cleaning and sanitisation needs. Customers choose us for the following reasons:
Want couch sanitisation services that are reasonably priced? So call us. We provide you with comprehensive couch sanitisation services at a very low cost.
Our couch sanitisation Brisbane team is renowned for offering safe couch sanitisation services. Consequently, we provide natural couch sanitisation measures.
The team we have for completing your couch sanitisation needs is skilled and knowledgeable in handling all sorts of couch services.
You may put your faith in our professionals since they develop incredibly effective and strong methods. As a consequence, it produces reliable findings.
Our service is accessible on weekends and is open Monday through Friday. So, feel free to contact us whenever; we are always willing to assist.
Thus, if you want to take advantage of all the advantages listed above, you can easily do so by getting in touch with us. Our staff have Certificate III in Cleaning Operations.