Hire Leather Couch Cleaning Experts in Brisbane for Ultimate Renewal
At CBD Couch Cleaning Brisbane, we understand that leather couches demand special attention. Don't let those stubborn spots and blemishes ruin your couch's appeal. Trust our skilled professionals to bring it back to life. Say goodbye to DIY experiments with various soaps. Instead, let our experts handle the job using specialized leather couch cleaning solutions that consistently deliver exceptional results.
What sets us apart?
We pride ourselves on our commitment to eco-friendliness. Our non-toxic, natural ingredient-based soaps ensure both a deep clean and a healthy environment. Our team is hands-on and trained to treat your leather couches with the care they deserve. We employ unique, leather-specific techniques, making CBD Couch Cleaning Brisbane your go-to choice for leather couch restoration.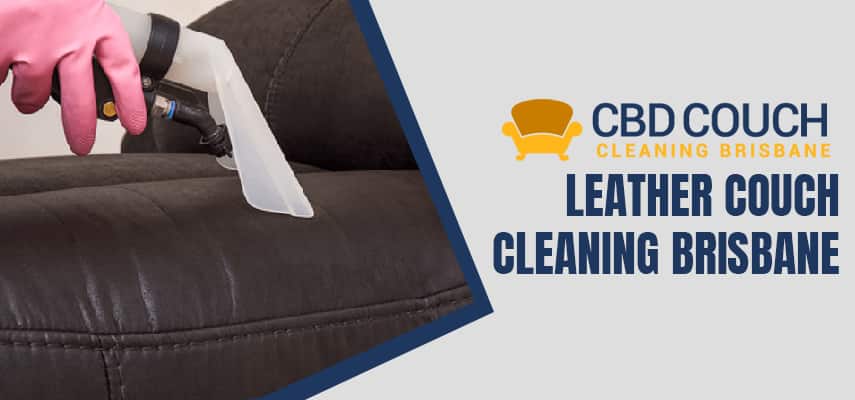 Our Leather Couch Cleaning Services in Brisbane
Our Brisbane Leather Couch Cleaning experts are trained to handle your couches perfectly. We know every issue should be addressed professionally that why we have a wide range of leather couch cleaning services for you:
Our Leather Couch Cleaning Process
Look at the following procedure we follow for your leather couch cleaning.
Inspection- Our experts inspect your leather couch and make a tailored plan.
Cleaning- We employ a dry cleaning method as leather is sensitive to moisture. So we use dry chemicals to remove the stains from your couch and make it look brand new.
Stain removal- Stubborn stains are our priority; we use natural stain removers for complete eradication.
Sanitisation- We properly sanitise your couch after cleaning to make the couch germ free and safe to use.
Deodorization- We thoroughly deodorise couches to improve their appearance and to make them completely sanitary. The foul smell from the couch will be eliminated by our couch deodorization method.
When to contact us?
Leather couches are also vulnerable to stains and scratches. However, they may last a lifetime with the proper care and treatment. When you find any such symptoms on your couch, you can simply ping us. Our top-rated experts will help you in all possible ways. We use safe methods to clean your couch. Also, we work with safety so that your costly couch is not harmed you can also check our cleaning results. Thus call us as soon as possible for the best leather couch cleaning services anywhere in Brisbane or its Suburbs.
Reasons To Choose Our Leather Couch Cleaning Services
Flexible service plans: Give us a call if you would like some personalised service packages. Furthermore, our team will take note of your needs and work diligently to find solutions for all of your issues.
Ideal Result: Because we have all the equipment necessary to clean your couch. As a result, it also raises the likelihood of getting favourable results.
Local Experts: As a local couch cleaner, we can help you with emergency leather couch cleaning services. Our couch cleaners have a wealth of industry knowledge. In addition, we provide advice on how to keep your couch clean.
Modern Techniques: In order to provide leather couch cleaning services, we exclusively employed modern technological techniques.
Safe Procedures: Our company goes to great lengths to ensure that the services we offer are as safe as they can be. You can also make an appointment with us for non-toxic and safe couch cleaning solutions.
Frequently Asked Questions – FAQs
How often should I have my leather couch professionally cleaned?
Leather couches benefit from professional cleaning every 12-18 months to maintain their beauty and extend their lifespan.
Is leather cleaning suitable for all types of leather?
Yes, our experts are trained to clean various leather types, including aniline, semi-aniline, and pigmented leather, ensuring the right treatment for each.
What should I do in case of a spill or stain on my leather couch?
Blot the spill gently with a clean, dry cloth and avoid rubbing. Contact us as soon as possible for professional stain removal to prevent permanent damage.
How long does the leather couch cleaning process typically take?
The duration depends on the size and condition of your couch. On average, a thorough cleaning session takes about 2-3 hours.
Read and Find Solutions on Leather Couch Cleaning Brisbane