Check The Cost Of Couch Cleaning in Brisbane!
Couch cleaning is the mandated task one has to get done to keep your surroundings healthy and hygienic. Get professional couch cleaning in Brisbane Prices done, you must know about the prices. We cannot state the exact prices, because it takes several factors to consider. The situation, condition, damages, spots, and stubborn stains; all the things will be considered before stating the exact cost of the professional couch cleaning services. So getting to know about couch cleaning Brisbane prices depends upon many aspects. 
Couch Steam Cleaning Cost: Steam cleaning involves advanced equipment, technology, methodologies, and practices; which cost more than you have expected. It is going to cost around $30.
Couch Dry Cleaning Cost: Dry cleaning is a simple and sorted process of cleaning in comparison to steam cleaning. It requires some cleaning products and solutions, which are not so expensive to catch but are effective in making the couch look completely refreshing and reviving. The cost range starts from around $25. 
Sofa Cleaning Cost: Sofa cleaning cost varies on the number of seats to clean and what is the condition of the sofa to get this entirely cleaned. The cost depends upon the type of cleaning method, but it might start from $100.
Upholstery Cleaning Cost: Upholstery requires a specific kind of cleaning process; which charges according to the situation and condition of the upholstery. Get in touch with professionals to know about the factors affecting the cost, but generally, it's around $70 for 2 seats.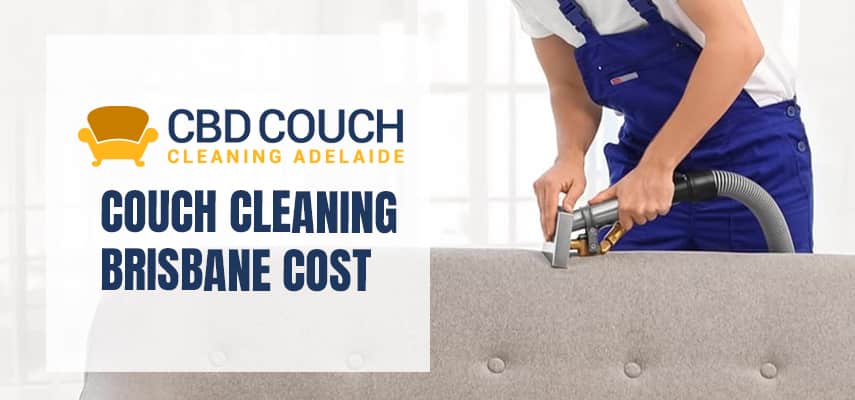 Know the Aspects Affecting The Upholstery Cleaning Price
When it comes to finding out the total couch cleaning Brisbane prices, it requires considering a lot of aspects. Each and everything that happens to the upholstery affects the prices; that is why everything needs to be considered to finding an expert Couch Cleaner Price: 
Number Of Seats: Foremost the professionals will check how many seats are required to be cleaned and sanitized. The number of seats is a must to consider when deciding the specific cost. 
The fabric of Upholstery: Check on the fabric to decide the cost of upholstery. One has to check which fabric has been used to make the couch so that the professionals will be able to decide on the right site.
What's The Condition of the Couch: It is important to check what's the condition of the couch; whether it's filled with dirt, does it needs sanitization, deodorization, anti-allergen required or not, scotch-guard protection or not, etc. 
Methods of Cleaning: There are several methods to clean the couch or upholstery. The upholstery cleaning price depends upon the method you choose for sofa cleaning.
Can I Estimate The Price Of Couch Cleaning?
Yes, one can estimate the cost of couch cleaning in Brisbane service by considering several factors. As we have stated in the above paragraphs also. Every aspect can affect and bring changes in the cost of cleaning services. So be sure to consider different aspects and estimate the price. If you are unable to estimate the prices; then call professional help. Yes, make a call to an expert couch cleaning service and tell us about what problems your couch has. This is the way; we will be able to estimate the right amount to pay for the professional upholstery cleaning. 
Save Your Cost On Couch Cleaning in Brisbane – Get Experts Assistance!
There are countless people, who think a lot before investing in couch cleaning services. Well, you may not know about the significance of a professional couch cleaning service. The expert assistance helps to increase the longevity of the couch and upholstery; which is going to save your investment in the couch. Moreover, the cost of professional couch cleaning is going to be budget-friendly and affordable. The investment in professional cleaning is going to be worth everything. 
Upholstery Cleaning Brisbane Cost
At CBD Couch Cleaning, we believe in transparency and strive to provide our customers with clear and competitive pricing for our services. Our price page is designed to give you a comprehensive overview of our upholstery cleaning packages and their associated costs. We offer various options tailored to meet your specific requirements and budget. The average price of our Upholstery Cleaning is $250 to $400.
With this guide, you will understand that every piece of furniture is unique and requires individual attention so prices can also differ. Our flexible packages allow you to choose the cleaning services that best suit your needs. Whether you need a quick refresh or a deep cleaning treatment, we have the right deal for you.
Other Supplementary Services For Cleaning Your Upholstery With Their Prices
If you not only want to clean your upholstery but also to refresh it, you may find the requirement of some additional services. All supplementary services help to give your upholstery a delicate look. Various supplementary services for cleaning upholstery through our experts are:
Deodorizing services: The average price of deodorization varies from $40 to $70.
Stain removal services: We charge an average stain removal cost of between $20-$60.
Treatment services against allergens: Our average cost for this process is $25-$65.
Fabric protection treatment: Its average cost is between $20-$50.
Ongoing Offers And Discounts
There are several offers and discounts available in our company. Some special discounts and offers you can enjoy like you can get seasonal and first-time service discounts. These are timely discounts and are valid for a given time. You have to apply for our service within that time frame. At present, we are giving a flat 5-10% discount on your service offer above $299.
Price Disclaimer
The price change depends upon several factors like your location, size of your upholstery, level of dirtiness of your upholstery, type of stubborn stains present, etc. So the acreage price you are seeing here can change. You must get a quote from us before booking our services to know the prices meant for your needs.
Need Couch Cleaning Prices – Contact Us Now!
Our Upholstery Cleaning Brisbane team is ready to connect you in several ways: 
You may book our service on the phone by directly calling us by talking to our executives.
You have to only fill out a form and it's done.
You can also mail us at our email address to book our service.
Contact No: (07) 3184 4760
Email id: info@cbdcouchcleaningbrisbane.com.au
Get the information and book a service as soon as possible.